The GREAT DATE NIGHT & The GREAT NIGHT OUT

Two fun and encouraging evenings of music and laughter!!


The Great Date Night is a fun and effective marriage-building event. Transform your fellowship hall into a casual cafe, prepare some tasty homemade desserts and give your couples an enjoyable night out that allows them to reconnect with each other and think about the things in life that really matter. Mark has performed in this setting for over 15 years. His insightful, everyday-life songs along with his off the wall sense of humor make him an instant hit. Typically the evening will consist of a 50 minute set of music and comedy, a relaxed 30 minute break when folks can grab some dessert and interact, followed by another 30 minute set. Your couples will get to laugh, unwind and be encouraged to make and keep their relationship Christ-centered and a top priority - truly a "great date"!!

The Great Night Out is a very similar event to the Great Date Night (same format and set-up) but designed for and open to all adults (not just married couples). It is a fun and relaxing evening of fellowship filled with great stories and songs (and of course... those tasty desserts !!) aimed to bless, entertain and minister to all those that attend.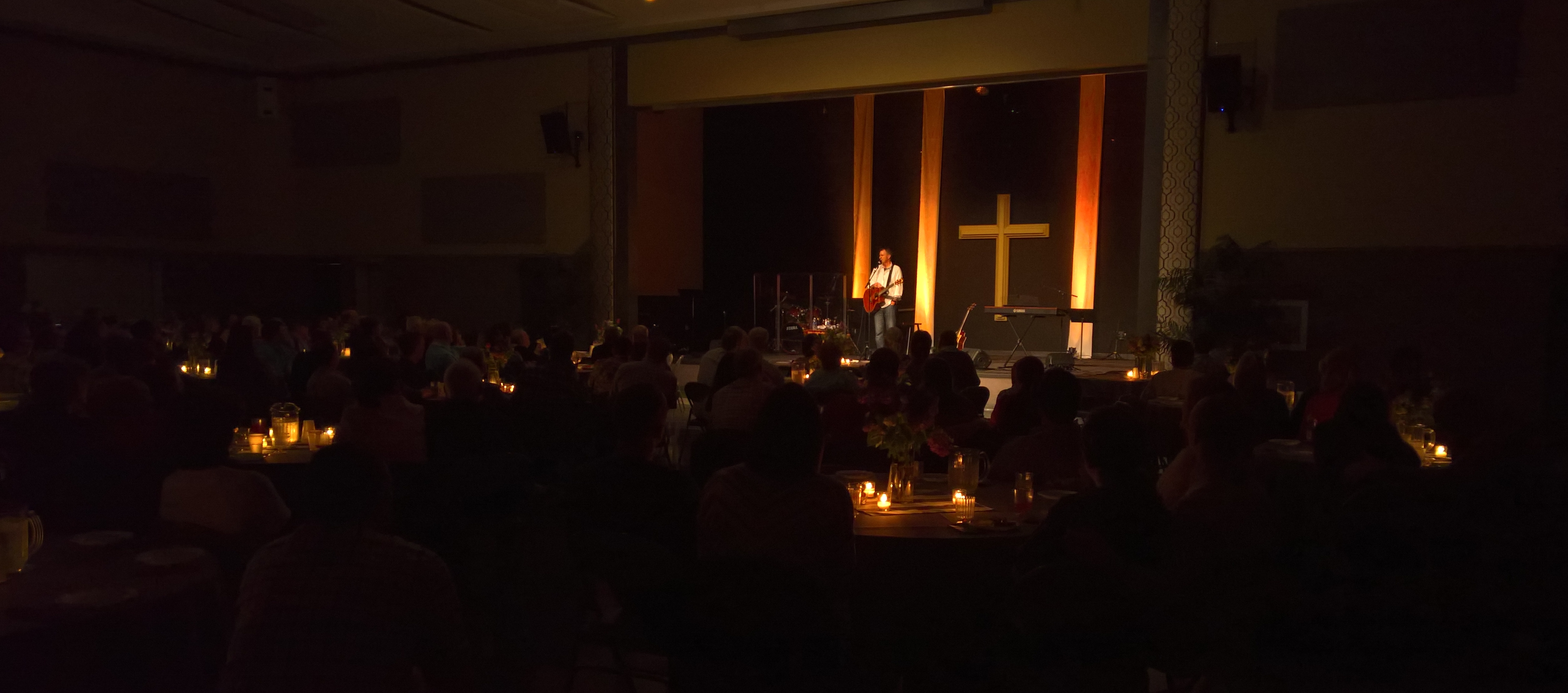 HOW IT WORKS:
PROMOTE - Mark will design full color posters, bulletin inserts, and a promo video to help you get the word out.
ANNOUNCE - Make tickets available the 3-4 Sundays leading up to the date. (Suggested ticket price: $20-$25 per couple)
PREPARE - Line up desserts for the break. Three suggestions: 1) Have each couple bring a dessert item to share. 2) Have your Hospitality Committee (or those in your church who love to bake) organize and prepare. 3) Order ahead of time and purchase from a local bakery.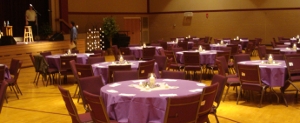 TRANSFORM - Turn your fellowship hall into a casual cafe. Be creative! Tables with tablecloths, candles, pretzels, popcorn, etc.
SERVE - Have various beverages available as folks arrive: coffee, teas, hot cider, sodas, punch, etc.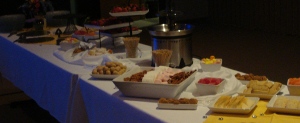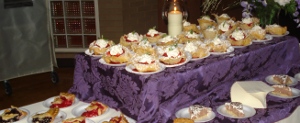 WELCOME - Have your emcee welcome everyone and give them a "5 minute warning", encouraging them to get something to drink and start finding a seat.
ENJOY - Mark will do his first set of music and comedy (50 minutes), which includes songs and stories that deal with marriage, family, parenting, etc.
INTERACT - There is an intentional 30 minute break for people to go through a dessert buffet line and to have the chance to interact with their spouse and friends around their tables.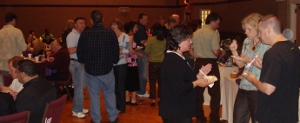 REFLECT - Mark will do another 30 minute set to close out the evening, challenging and encouraging the couples to think about the things in life that matter most!
Approximate length – 2 hours



WHAT FOLKS ARE SAYING:



"Thanks for an awesome evening! The feedback has all been super positive! Just what our couples needed."?>
Pastor Mike Phelps, Lewisburg Alliance Church, Lewisburg, PA


"We were so blessed by your presence and ministry to our couples at our Great Date Night. Definitely our best couples event in many years."
Pastor Mark Martin, Maiden Lane Church of God, Springfield, OH


"Somehow you encouraged us to be better spouses, parents, and followers of Jesus - while we were snorting with laughter. Well done!"
Nate Ransil, Program Director, Sandy Cove Conf. Ctr., North East, MD


"My wife and I had a blast and absolutely LOVED your show! You are a phenomenal storyteller, songwriter and performer!"
Matt Goss, Worship Pastor, LCBC, Manheim PA
"Thank you for making the Great Date Night just that. Your planning and communication made it hassle free for our church to host an evening of laughs, encouragement, and humble challenge forcouples of all ages!"
Pastor Luke Francis, FBC, Vandalia, OH


"The unanimous response was, 'When can we do this again?'"
Rev. Mark Orr, Calvary Baptist Church, Darien, CT


"WOW! What a Great Date Night for our church! Thank you for sharing your life and faith through song and humor. We had several un-churched folks attend and they were pleasantly surprised to discover Christians can have so much fun!"
Pastor Dave Tierney, White Marsh Baptist Church, Perry Hall, MD

"Our team was commenting on how many couples were enjoying one another - leaning in, holding hands. Even couples that have been working through some rocky stuff ... we saw them having a Great Date Night!"
Pastor Alec Millen, Grace Church, Lancaster, PA


"Our couples had no idea what to expect and walked out of there with a smile on their face, a little pep in their step, and a little tug at their hearts – PERFECT! Exactly what we were hoping for!"
Beth Shaha, Director of Couples Ministry, Leesburg Comm. Ch., Leesburg, VA


"Mark, The evening was a wonderful night of laughter and fun. You have a great gift of music and expressing your heart for Jesus. We found the grace of God in your Great Date Night."
Pastor Steve Bane, New Stanton UMC, New Stanton, PA


"It truly lived up to the name 'Great Date Night'. We were hoping for 50-60 people. We had almost 200!! The promotional materials you provided made advertising the event so easy."
Stan Lauterbach, Calvary Bible Fellowship Church, Sinking Springs, PA


"There were several men in attendance who will not come to church with their wives. They came to the Great Date Night and really enjoyed it....this means so much to us here at Grace!"
Joelle Zimmerman, Grace Christian Fellowship, Cortland, NY


"Mark - a great blend of humor, wisdom, and wit. It was a great time - a lot of folks were encouraged!"
Pastor Pete Nelson, Beacon EFC, Galloway, NJ


"…such a special evening for all of us! On Sunday morning, everyone was still buzzing about your awesome performance and how uplifting it was. We will definitely do this again!"
Jan Plant, Event Coordinator, Mt. Zion UMC, Highland, MD


"Mark, Great Date Night was a gift - thank you! The relaxed, faith-filled and energized atmosphere of the night had couples smiling from beginning to end."
Rev. Gary Weaver, Wesley UMC, Bloomsburg, PA


"Thank you for a Great Date Night!! Sunday I was approached by many and was told how much they enjoyed your music, your comedy, and your witness. I have been telling friends who attend other churches to call you!
Angela Mayer, Dir. Of Family Life, Calvary UMC, Frederick, MD


"Mark...a great night! We loved your music, humor and heart for ministry – especially for marriage!"
Sr. Pastor Dave Gish, Hope Church, Wilton, CT


"Good to have you dear brother. Thank you for your gospel centered and marriage exalting music. Folks were really blessed by it."
Pastor Jason Hoy, Ephrata BFC. Ephrata, PA


"Mark, You did a fantastic job again yesterday. You are able to bridge the age gaps. I heard nothing but positive comments ...again!!!"
Rev. Dave Hill, Northside Baptist Church, Springfield, OH


"Thanks so much for 'The Great Date Night'. It was a perfect blend of comedy, song, and real life stories, with the hope of Jesus Christ woven throughout. The couples of our church loved it!!"
Pastor Scott Snyder, First Baptist Church, Vandalia, OH
- - - - - - - -


If you have any further questions in regard to this type of event or if
you are interested in setting one up at your church, feel free to contact Mark
at 717-792-4654 or via email.