SERMON IN SONG
"A memorable message through songs, stories and insights"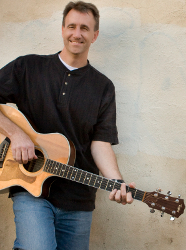 For over 20 years singer, songwriter, and guitarist Mark Cable has been challenging and encouraging Sunday morning congregations across the United States. His "sermon in song" presentations combine biblical insights with everyday life application through his heartfelt song lyrics and real life stories. Throw in Mark's off-the-wall sense of humor and you get a powerful message that is both inspiring and truly "memorable". Mark has ministered in hundreds of morning services, often for special occasions such as Friend Day, Rally Day, Easter, Christmas, Valentine's, and even "the pastor-is-on-vacation-day". He understands the need to be flexible in regards to time, theme, multiple services and is available to lead worship as well. Mark's full-time ministry typically takes him to 100 engagements each year with about 20 of those being Sunday morning Sermon in Song presentations. To find out more about bringing Mark to your church, you can reach Mark directly by phone 717-792-4654 or by email .
Mark,

Thanks for coming and using your God given abilities and gifts. Worship was engaging, fun, challenging, and most of all God focused and directed! Your mix of original songs and congregational praise singing was perfect. You provided our music staff a needed break while providing an exceptional and inspiring time of worship. I look forward to having you back some time in the near future.
God Bless!!

Brian Clark
Senior Pastor
Riverside Presbyterian Church
Potomac Falls, VA

- - - - - - - - - -
Mark,


Thank you so much for ministering to us this weekend at our Couples Retreat and in our Sunday morning worship service. Your inspiring music, personal stories, and humor were exactly what our church needed. Sunday morning, you did a great job leading our congregation in worship and weaving the Gospel throughout the concert that ministered to a wide range of spiritual needs. We already have people asking when we are going to schedule you again! We are looking forward to a long relationship with you at Community.

Sandy Adams, Jr.
Lead Pastor
Community Christian Fellowship
Carlisle, PA
- - - - - - - - - -
Mark,

We were so glad to have you share with us last Sunday! Everyone connected with you almost immediately. You have the great gift of being able to take everyday events and make them hilarious. Then when you shared deep and penetrating truths they were couched in such a that they just hit home. God used you, and we benefited from it!

Adam Meredith, Pastor
Five Forks BIC Church
Waynesboro, PA
- - - - - - - - -
Mark,

This is just a late thank you for making time to come out to Virginia last year. I just wanted to let you know that we were all blessed in having you make your debut at CCoM in Virginia. I wanted to thank you for coming out on behalf of myself and leadership. You are still the talk of our church to date. Your music and stories were funny, convicting, and enlightening to us all. We will be in touch for a good time for you to come out this year. Thanks again for blessing our congregation and we look forward to another fun time.

Blessings--

Ricky Irving, Deacon
Calvary Chapel of Manassas
Manassas, VA



If you have any further questions in regard to this type of event or if
you are interested in setting one up at your church, feel free to contact Mark
at 717-792-4654 or via email.