Promo
INDIVIDUALIZED POSTERS will be designed, printed and mailed to you one month prior to the event.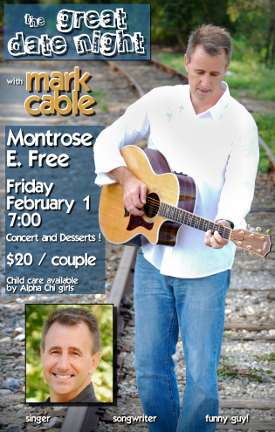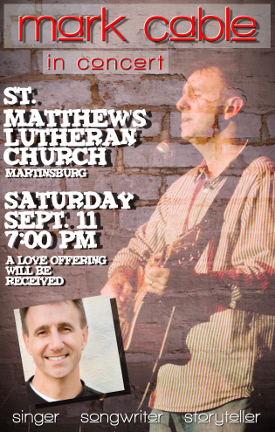 PROMO VIDEO To be played in your services and embedded on your website.
PRESS RELEASE Feel free to edit the following to help promote your event:
Singer, songwriter and humorist Mark Cable will be in concert at _______________________ on ___________________ at _________. An accomplished guitarist, Mark has released 17 CDs and has been touring fulltime for over 25 years. His insightful everyday-life songs along with his off the wall sense of humor have stirred audiences across the U. S. to laugh, to cry and to think about the things in life that matter most. For more information call____________.
PICTURES Feel free to copy, edit and print any of the following .jpg images to help promote your event. Click picture for larger image.